Man säger folkrätten men det är fråga om realpolitik. Man talar om försvar av friheten, öppenheten, demokratin . . . Men jag kan bara se bombningar, hämnd, vedergällning. Hur kan ett land försvara sina medborgare mot attentatsmän och terrorister genom att döda andra människor någon annanstans i blindo? Ingen talar just nu om FN:s berömda "De mänskliga rättigheterna". Har inte oskyldiga, civila människor rätt att få leva i fred. Det land som utsatts för terrorhandlingar borde först söka efter de skyldiga och de som är medskyldiga. Jag inser självfallet, att eftersom de direkt skyldiga inte längre är i livet — det var ju självmordsattacker; det är omöjligt straffa redan döda. Det kan bli svårt att finna de som varit medhjälpare till attentatsmännen och de som finansierat terrordåden men ändå måste det vara rätt väg att vandra. Då skulle man kanske också finna att USA självt är bland de medskyldiga, genom sitt stöd till Saudiarabien, miljardären Usama Bin Laden, mudjaschedin o.a. Därför väljer inte USA den vägen, utan istället bombas urskillningslöst. Hur länge ska man kunna hålla på med det?
Uttåg 2011 - men inte i norr?
United States President Barack Obama has pledged to begin withdrawing troops from Afghanistan in July 2011, and as a part of the initial outlines of this exit strategy the Taliban are for the first time in serious negotiations with the US.
The Pakistan military and Saudi Arabia are acting as go-betweens to facilitate the talks, a top Pakistani security official directly involved in the negotiation process has told Asia Times Online.
According to the official, the Pakistan army has already been in contact with top Taliban commanders, including Sirajuddin Haqqani. Information is then passed onto the Saudis, who in turn Källa: ATOL 2010 09 11
Massakern 1842
16.000 man förintades mellan Kabul och Jalalabad.
Endast en överlevde av Elphinstones armé.

Nur einer kam heim aus Afghanistan.
Ein Militärarzt namens William Brydon hielt sich in der Hütte eines afghanischen Hirten vor den grausamen Verfolgern verborgen. Der Paschtune versteckte den Schotten einige Tage und setzte ihn dann, nachdem Schüsse, Schreie und Wehklagen in Gandamack verstummt waren, auf ein Pony. Warum er Brydon gerettet hat, ist unklar. Vielleicht hatte er einfach Mitleid mit ihm.

Theodor Fontane hat von der Katastrophe vermutlich schon auf seiner ersten England-Reise, im Jahre 1844, gehört. Das Thema muss ihn zeitlebens beschäftigt haben, denn 54 Jahre später, kurz vor seinem Tod, schrieb er eine Ballade mit dem Titel "Das Trauerspiel von Afghanistan":
Der Schnee leis stäubend vom Himmel fällt,
Ein Reiter vor Dschellalabad hält,
"Wer da!" - "Ein britischer Reitersmann,
Bringe Botschaft aus Afghanistan."


Afghanistan! Er sprach so matt;
Es umdrängt den Reiter die halbe Stadt,
Sir Robert Sale, der Kommandant,
Hebt ihn vom Rosse mit eigener Hand.


Sie führen ins steinerne Wachthaus ihn,
Sie setzen ihn nieder an den Kamin,
Wie wärmt ihn das Feuer, wie labt ihn das Licht,
Er atmet hoch auf und dankt und spricht:


"Wir waren dreizehntausend Mann,
Von Kabul unser Zug begann,
Soldaten, Führer, Weib und Kind,
Erstarrt, erschlagen, verraten sind.


Zersprengt ist unser ganzes Heer,
Was lebt, irrt draussen in Nacht umher,
Mir hat ein Gott die Rettung gegönnt,
Seht zu, ob den Rest ihr retten könnt."


Sir Robert stieg auf den Festungswall,
Offiziere, Soldaten folgten ihm all,
Sir Robert sprach: "Der Schnee fällt dicht,
Die uns suchen, sie können uns finden nicht.


Sie irren wie Blinde und sind uns so nah,
So lasst sie's hören, dass wir da,
Stimmt an ein Lied von Heimat und Haus,
Trompeter, blast in die Nacht hinaus!"


Da huben sie an und sie wurden's nicht müd,
Durch die Nacht hin klang es Lied um Lied,
Erst englische Lieder mit fröhlichem Klang,
Dann Hochlandslieder wie Klagegesang.


Sie bliesen die Nacht und über den Tag,
Laut wie nur die Liebe rufen mag,
Sie bliesen - es kam die zweite Nacht,
Umsonst, dass ihr ruft, umsonst, dass ihr wacht.


Die hören sollen, sie hören nicht mehr,
Vernichtet ist das ganze Heer,
Mit dreizehntausend der Zug begann,
Einer kam heim aus Afghanistan.

Källa:  Die Signatur des Krieges (Claus Christian Malzahn)

ISBN 3882218533

Denna dikt bör översättas till svenska och delas ut till svenske värnpliktige.....
Only one soldier managed to reach Jalalabad.

Länkar med upplysningar om tillståndet i Afghanistan:
Bilder år 2001 — Karta Tora Bora — Afganistan våren 2003 karta
Björn Kumm om Afghanistan — läget hösten 2005 — Afghanistan
Afghanistan — Durandlinjen — Khyberpasset — Einer kam heim aus Afghanistan

karta över Jalalabad i Afganistan samt Peshawar i Pakistan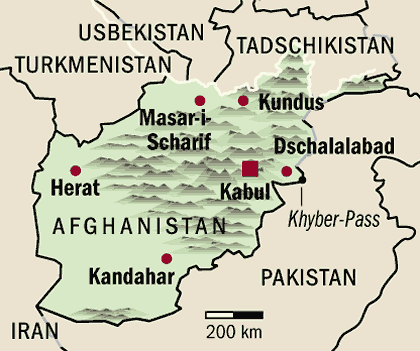 en godtycklig gränsdragning: the Durand Line
* * * * *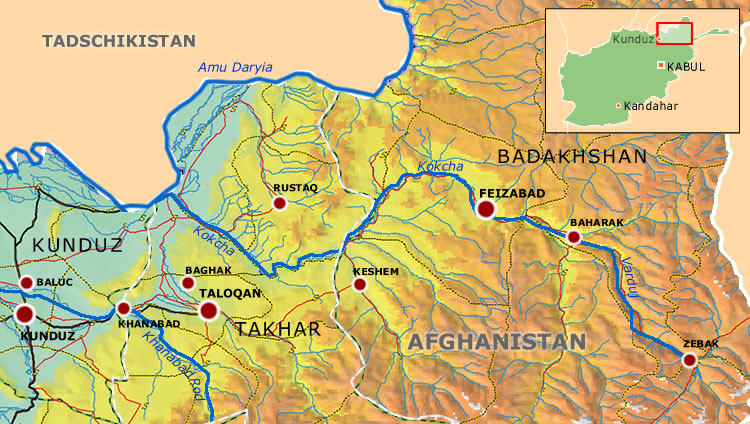 Afghansk tidning — Afghanistan — the Saudi connection — Talibaner

En historiebeskrivning av Afghanistan och Waziristan
Map — Länklist — Hem — Kumm om Afghanistan — Einer kam heim aus Afghanistan