Capital in the Twenty-First Century
Pikettey correctly notes that inequality is now the worst in world history – and will only get worse. Asset Prices Rise Faster than Wages.
Piketty argues that the main cause for inequality is that the rate of return on capital – land, natural resources, stocks, bonds and other assets – is far higher than the growth rate of the economy: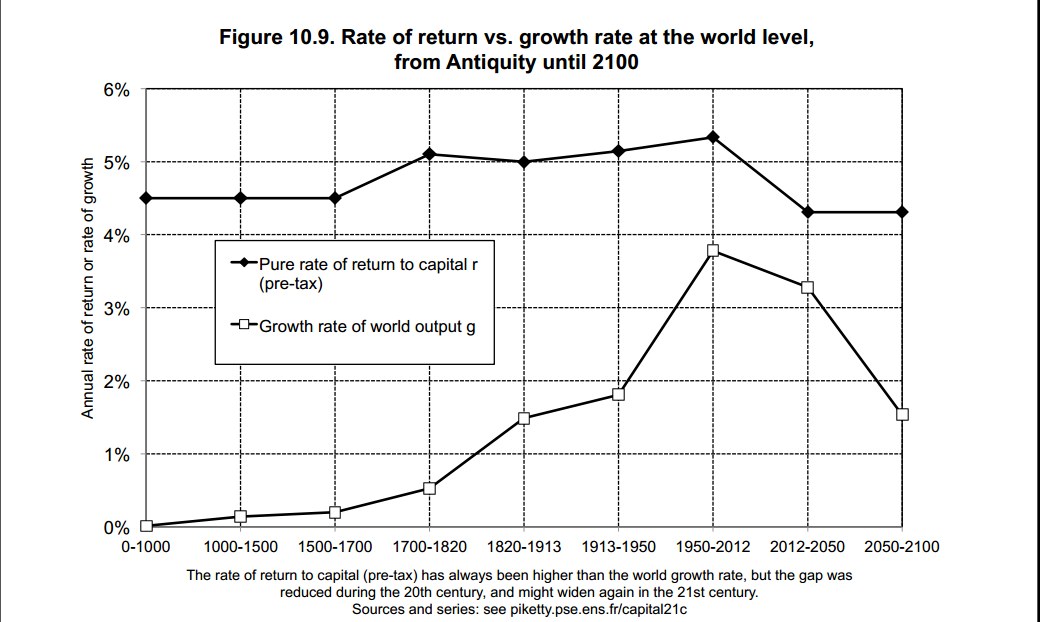 Piketty - kapitalavkastning vs tillväxt
Because the growth rate is much slower than the rate of profit from holding capital assets, the asset-holders' wealth increases much faster than the wealth of workers. In other words, working stiffs can't keep up with those who make their money from investing in (and seeking rent from) land, stocks, bonds and other assets.
Piketty – a rigorous data researcher – is probably right that this is one of the main causes of inequality.
---
16 maj 2016 fyllde Sykes-Picot-avtalet 100 år.
Avtalet, som slöts mellan dess upphovsmän Mark Sykes och Francois Georges-Picot, var en kolonial överenskommelse mellan Storbritannien och Frankrike för att stycka upp Mellanöstern, skriver Nuri Hajo, ordförande i föreningen SOLIN i Bollnäs.
Överenskommelsen, tog ingen hänsyn till regionens historia eller till etniska och religiösa traditioner. Britterna tog kontrollen över Irak, Jordanien och Palestina medan Syrien och Libanon tillföll Frankrike Det osmanska riket såg inte ut att gå särskilt segrande ur det första världskriget, och hade redan varit i förfall – som Europas sjuke man – i många år.
Dagens konflikt bottnar i gränsdragningen som gjordes fel. För att förstå varför Irak och Syrien faller sönder är det viktigt att känna till hur de båda staterna uppstod. Irak och Syrien är så att säga konstgjorda stater. Gränserna ritades upp av europeiska stormakter efter första världskriget.
I dessa mångkulturella områden har många släktingar på andra sidan gränsen. Det gäller såväl kurder liksom arabisktalande sunniter som alawiter, och de som finns kvar av olika kristna folkgrupper. Upprätthållandet av de nuvarande gränserna i Mellanöstern har lett till blodspillan under årtionden, och det kommer att fortsätta så länge de här gränserna är i kraft.

Hela insändaren finns att läsa här
En utmärkt 'guide' i kurdfrågan är: (förutom min assyriske barberare) Penny from Canada