En vy över Huvudstafältet i Solna, i början av september 2002
massförstörelsevapen most important links
There's a graveyard in northern France where all the dead boys from D-Day are buried. The white crosses reach from one horizon to the other. I remember looking it over and thinking it was a forest of graves. But the rows were like this, dizzying, diagonal, perfectly straight, so after all it wasn't a forest but an orchard of graves. Nothing to do with nature, unless you count human nature: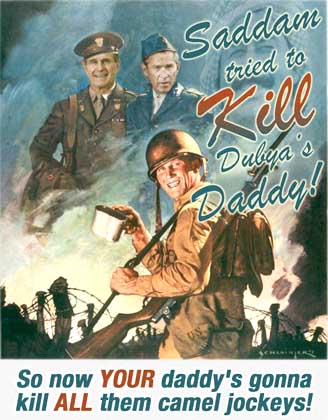 Die Bilder aus Abu Ghureib wirken wie eine monströse Inszenierung aller Klischees vom amerikanischen Imperialismus, selbst Michael Moores wüste Polemiken sind dagegen harmlos wie Naturgedichte von Eichendorff. Beschädigt ist der ganze Westen: Seine Werte erscheinen als Heuchelei, die krudesten Vorurteile über seine Dekadenz als bestätigt.
Man reibt sich die Augen, man glaubt es kaum und begreift erst allmählich - das darf nicht wahr sein. Doch es ist Realität. Gleichzeitig erscheint das Ganze wie ein schlechtes B-Movie, wie ein Alptraum mit Langzeitwirkung, ein Desaster in Zeitlupe: Amerikanische Soldaten, die den Irak seit über einem Jahr besetzt halten, demütigen und misshandeln irakische Gefangene. Sie vergewaltigen muslimische Frauen und zwingen muslimische Männer, nackt vor ihnen zu masturbieren, Geschlechtsverkehr zu praktizieren und pornographische Szenen nachzustellen.
Hunde, in der islamischen Welt als "unrein" geltende Tiere, werden losgelassen, um die wehrlosen Gefangenen einzuschüchtern und zu verletzen; Stromkabel versetzen die Inhaftierten in Todesangst, deren Köpfe unter Kapuzen stecken. Abgründig das Foto, auf dem eine grinsende US-Soldatin einen nackten irakischen Gefangenen am Halsband führt. Ein genuin faschistisches Motiv, das sich ins Gedächtnis der Welt einbrennen wird. Die Soldaten selbst haben all das sündenstolz und freudig mit der Kamera festgehalten, Trophäen eines blinden und dummen Triumphes.

Der Spiegel 11 Mai 2004

Det eviga.

Väl formar den starke med svärdet sin värld,
Väl flyga som örnar hans rykten;
Men någon gång brytes det vandrande svärd
Och örnarna fällas i flykten.
Vad våldet må skapa är vanskligt och kort,
Det dör som en stormvind i öknen bort.

Esaias Tegnér, 1810 — mer Tegnér finns hos runeberg/tegner
As Joseph Cirincione, a top weapons expert at the Carnegie Endowment, put it, the purported existence of those weapons "was the core reason for going to war with Iraq and the reason we had to go now If we don't find fairly large stockpiles of these weapons, in quantities large enough to pose a strategic threat to the United States, the president's credibility will be seriously undermined and the legitimacy of the war repudiated."

That concern is largely absent in the U.S. media, where "liberation" is now a code word that smoothes over any irritating questions one may ask when a Christian superpower invades the heart of the Muslim world. Its partner phrase, "the building of democracy," is also all the rage, as if real democracy was something you could create with Legos or SimCity software.



Källa: commondreams.org/ L.A Times 22 April 2003




Ur en schweizisk tidning april 2003


Grundloser Krieg

Saadi (irakiske höge vetenskapsmannen Amir el Saadi, som överlämnat sig till USA-trupperna) blieb in einem Interview mit dem ZDF bei seiner Darstellung aus Vorkriegszeiten, dass es in Irak keine biologischen oder chemischen Waffen gebe. Der Angriff auf sein Land sei grundlos gewesen, betonte der Wissenschaftsberater von Saddam Hussein.

US-Präsident George W. Bush hatte den historisch beispiellosen "Präventivkrieg" in erster Linie damit begründet, dass der irakische Machthaber mit Massenvernichtungswaffen nicht nur die Nachbarländer, sondern die USA sowie die ganze Welt bedrohe.

Die bislang vergebliche Suche nach den illegalen Arsenalen wächst sich für die USA damit zu einem wachsenden Glaubwürdigkeitsproblem aus.

"Mit jedem verstreichenden Tag wird die amerikanische Glaubwürdigkeit in Frage gestellt, besonders von anderen Nationen, die über eine Militäraktion von Anfang nicht begeistert waren", warnte vor ein paar Tagen die "New York Times".



Källa:  http://www2.news.ch/ 
(24 april 2003)


The complaint has been lodged by a survivor of the attack and close relatives of the sixteen people who died when NATO targeted Radio Television-Serbia on April 23, 1999.
The relatives say the seventeen countries are responsible even if the attack took place under the auspices of the NATO military alliance to which they belong.
The countries are: France, Belgium, the Czech Republic, Denmark, Germany, Greece, Hungary, Iceland, Italy, Luxembourg, the Netherlands, Norway, Poland, Portugal, Spain, Turkey and Britain.
America is a notable absentee since it does not come under the jurisdiction of the Strasbourg-based court.
Källa: Balkannews okt 2001
Local links in this old map:

gps
dec old
luntis inkl easter
geografi
lawrence

URL:     http://www.blompottan.se/TEL/5619/index.html
Update:  2010 04 30 [2015 02 04]