"It is a common refrain among war-weary Iraqis that things were better before the U.S.-led invasion in 2003,"
reported the Washington Post on May 5, 2007.
No matter ... drum roll, please ... Stand tall American GI hero! And don't even think of ever apologizing or paying any reparations. Iraq is forced by Washington to continue paying reparations to Kuwait for Iraq's invasion in 1990 (an invasion instigated in no small measure by the United States). And - deep breath here! - Vietnam has been compensating the United States. Since 1997 Hanoi has been paying off about $145 million in debts left by the defeated South Vietnamese government for American food and infrastructure aid. Thus, Hanoi is reimbursing the United States for part of the cost of the war waged against it. (William Blum, Rogue State, p.304) How much will the United States pay the people of Iraq?
Bron Sarafija över floden Tigris, en viktig bro i Iraks huvudstad, vid 44º 22' 20" N 33º 21' 14", ovan intakt, under en bild av brons rester efter en kraftfull sprängning 12 april 2007.
Al-Sarafiya Bridge is one of the oldest and highest in the Iraqi capital. "We were astonished more when we saw the extent of damage," said Ahmed Abdul-Karim, 45, who also lives near the bridge. "I was standing in my garden and I saw the smoke and flying debris." Al-Sarafiyah bridge was built by the British during the 1950s to connect the two sides of Baghdad separated by the Tigris river. "It is one of Baghdad's monuments. This is really damaging for Iraq. We are losing a lot of our history every day,"
Abdul-Karim said. Källa: Al Jazeera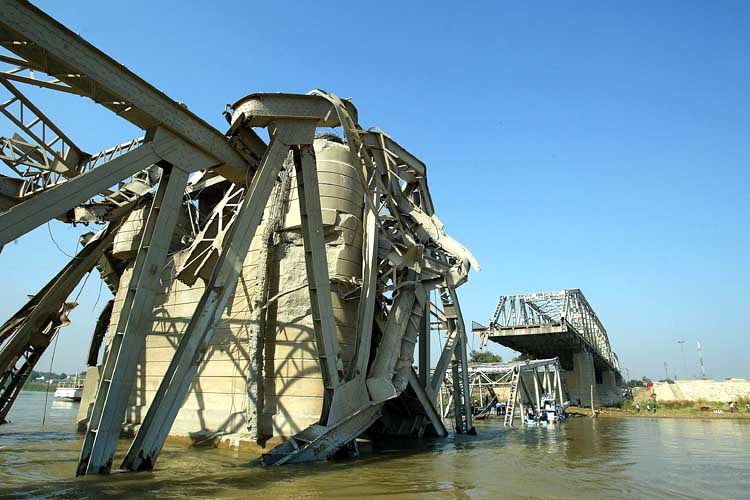 Ytterligare en bro över Tigris utsatt för bombning 14 april 2007:
Wie stark die Dschadrijah-Brücke über den Tigris beschädigt wurde, war zunächst nicht klar.
---
Hur man kan försvara sig:
Om användning av s.k. konventionella vapen skrev den gamle Plinius:
"I Samosata vid stranden av Eufrat finns ett träsk som frambringar en brännbar gyttja kallad petroleum. Så snart detta kommer i beröring med en fast kropp fastnar det vid denna, och när folk berör det häftar det vid dem när de försöker frigöra sig från det. På så sätt försvarades stadsmurarna då de angreps av Lucullus (i Mitradates krig år 74 f. Kr.).
Trupperna blev brända av sina egna vapen. Vatten får det endast att brinna ännu kraftigare; försök ha visat att elden kan kvävas endast med jord."

"Nafta är av liknande art — detta är namnet på ett ämne som rinner ut som flytande beck i trakten av Babylon och den del av Partien som är belägen i närheten av Astacus. Nafta är nära besläktat med eld, som omedelbart dras till den när den förnimmer naftan. Det var med dess tillhjälp Medea enligt sägnen brände sin medtävlarinna, vars krans tog eld sedan hon nått fram till altaret för att offra."

 (II: 108 i Historia Naturalis)

---
---
British influence
During the First World War, Turkey became a German ally and its empire collapsed when British forces invaded Mesopotamia in 1917 and occupied Baghdad.
At the Paris Peace Conference in 1919, the group of the of the victorious nations in World War I (the allies) made Iraq, which constituted the former Ottoman states (Wilayat) of Mosul, Baghdad, and Al Basrah) under the British mandate. According to the mandate system system, a territory that had formerly been held by either Germany or the Ottoman Empire was placed nominally under the supervision of the League of Nations with the administration of the mandate given to one of the First World War victorious allied counties, including Britain and France, until the territory is able to govern itself. Iraq was classified as Class A mandates; such types of mandates were expected to achieve independence in a few years.

The creation of the British Mandate in Iraq was officially confirmed at the Allied governments' conference in
San Remo, Italy, in April 1920.
When the Iraqi Arabs learned of this decision in July 1920, they began an armed uprising against the British, whose senior administrator in Iraq drafted a plan for a provisional government of the new state of Iraq. According to the plan in question, Iraq was to be a kingdom with a government directed by a council of Arab ministers under the supervision of a British high commissioner. An invitation to rule the news state of Iraq was offered in August 1921 to Faisal, was elected King of Iraq by a plebiscite in August 1921 winning 96% of the votes.

Full independence of Iraq was not achieved until 1932, when the British Mandate was officially terminated. Iraq joined the League of Nations in the October of that year, and was officially recognized as an independent sovereign state. On Faisal's death in 1933, he was succeeded by his son, King Ghazi I.
The growing state
In 1936 King Ghazi I formed an alliance with other Arab nations, known as the Pan-Arab movement.
This was, in effect, a non-aggression treaty, and promising kinship between Arab countries. Three years later, Ghazi was killed in a road accident and was succeeded by his three-year-old son, Faisal II, under a regency. Faisal, the cousin of Jordan's present King Hussein, did not assume the throne formally until his eighteenth birthday, in May 1953.
During the earlier part of World War II, Iraq's government was strongly pro-British, but a military revolt in 1941 resulted in British troops landing at Basra in 1941. The ensuing war between Britain and Iraq lasted less than a month, before Iraq conceded defeat, and a new, pro-British government was established. In the following year Iraq became an important Middle Eastern supply centre for American and British forces, particularly with regard to the transshipment of arms to the USSR.
Coups, wars & instability
War with Israel followed in 1948, in which Iraqi forces were allied with those of Transjordan, in accordance with a treaty
signed by the two countries during the previous year. Fighting continued until the signing of a cease-fire agreement in May 1949. During the early 1950s, in the reign of the new young King Faisal II, various pro-Western pacts were signed, but Arab factions, bitterly opposed to union with the West, staged a military coup on 14th July 1958, led by General Karim Kassem. King Faisal and the premier, Nuri as-Said were both killed in the uprising and the country was proclaimed a republic. A period of considerable instability followed, with one military coup swiftly succeeding another, and leaders came and went throughout the 60s and early 70s. Iraq's general policy during these years was one of hostility to the West and friendship with the USSR. Iraq declared war on Israel during the 1967 Arab-Israeli war, and in the 1973 hostilities, gave material aid to Syria. Iraq was heavily opposed to the cease-fire which ended the conflict. Relations with Iran were fast deteriorating in the early 70s. The ongoing Kurdish problem, which had first emerged in a 1961 Kurdish rebellion, was now fuelled by Iranian arms supplies to the Kurd leader, Mustafa al-Barzani. Problems were compounded by border disputes with Iran, but these were partially settled in 1975, whereupon Iran withdrew aid from the Kurdish revolt and effectively halted it. By the end of 1977, the Kurdish people had been granted greater autonomy and Kurdish was recognised as an official language. Politically, Iraq seemed to be stabilising, and the oil boom of the late 70s contributed dramatically to an upsurge in the economy.
Upp | Ned | läget i Irak försommaren 2004
---
---